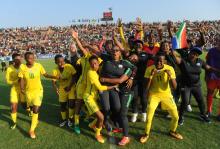 Interim head coach of the South African Senior Women's National Team, Desiree Ellis, has made history by becoming the first South African – male and female – to win the COSAFA Women's Championship both as a player and a coach.
Ellis led the Sasol-sponsored Banyana Banyana to their fourth victory in the competition when they defeated hosts Zimbabwe 2-1 in an exciting final played on Sunday, 24 September 2017 at Barbourfields Stadium in Bulawayo.
This was her second gold medal after she won her first back in 2002 as a national team player.
"That was such a long time ago, but yes it does feel special. I did not in my wildest dreams think that this could happen to me, and coming to this tournament that was the furthest thing on my mind. Even though I am excited with what I have achieved, the credit should go to the players because they worked hard for it. Some players may not come back to this team but they have something to shout about, they have created memories for themselves – it is not about me but the whole group. I will however cherish this for a long time to come," said Ellis.
When she won her first medal, the former Banyana Banyana captain came up against current coach of Zimbabwe, Sithethelelwe Sibanda who was still a player back then.
"After the game I went and shook hands with her and told her that today was not her day, and she admitted that Banyana Banyana was the better team. They gave us a run for our money because they have a very good team that was also at the 2016 Rio Olympics, just like us, but I guess we wanted it more. My heart goes out to her and her side as they gave their all but we were better prepared," added Ellis.
She was particularly impressed by the way her team improved in the tournament.
"In the first match against Lesotho we just couldn't find out footing, but as the tournament progressed we were able to do what we wanted. While the focus could be on the final, my most memorable match in the tournament will forever be the semi-final against Zambia where we staged what I believe was one of the greatest comebacks in history of the game – 3-0 down with 15 minutes remaining, and we scored three goals in nine minutes to win the match on penalties," said Ellis.
"I believe the tournament was won on that day, even though we didn't know it then. The character displayed on the day carried us through and I guess that is why we were so comfortable in the final against the hosts with all their supporters. We all believed that if we survived that miracle against Zambia, no one will stand in our way. It was a special performance from a special group of players. In the final we were in control and never felt threatened at any stage. We played a very good game and I am proud of this team.
The South Africans scooped four out of five Player of the Match awards: Nothando Vilakazi (vs Lesotho), Thembi Kgatlana (vs Namibia), Leandra Smeda (vs Zambia) and Bambanani Mbane (vs Zimbabwe) – they only missed out on the 1-1 draw against Botswana.
Banyana Banyana also scored 12 goals in five matches, with four different goal poachers – Kgatlana (4), Smeda (4), Chantelle Esau (3) and Rhoda Mulaudzi (1) – Kgatlana was also voted Player of the Tournament.
While all the players managed to get some action during the tournament, only two played every minute of all the five matches – captain Refiloe Jane and defender Mbane.
Three players also collected their second gold medals in the competition – Noko Matlou, Vilakazi and Esau – the first was in 2008.
This was the 5th Edition of the tournament – and Banyana Banyana's fourth win after lifting the trophy in 2002, 2006 and 2008. They only missed out in 2011 when they were pipped to the podium by Zimbabwe.
Sasol may, in this document, make certain statements that are not historical facts and relate to analyses and other information which are based on forecasts of future results and estimates of amounts not yet determinable. These statements may also relate to our future prospects, developments and business strategies. Examples of such
forward-looking statements include, but are not limited to, statements regarding exchange rate fluctuations, volume growth, increases in market share, total shareholder return, executing our growth projects and cost reductions, including in connection with our Business Performance Enhancement Programme and Response Plan. Words such as "believe", "anticipate", "expect", "intend", "seek", "will", "plan", "could", "may", "endeavour", "target", "forecast" and "project" and similar expressions are intended to identify such forward-looking statements, but are not the exclusive means of identifying such statements. By their very nature, forward-looking statements involve inherent risks and uncertainties, both general and specific, and there are risks that the predictions, forecasts, projections and other forward-looking statements will not be achieved. If one or more of these risks materialise, or should underlying assumptions prove incorrect, our actual results may differ materially from those anticipated. You should understand that a number of important factors could cause actual results to differ materially from the plans, objectives, expectations, estimates and intentions expressed in such forward-looking statements. These factors are discussed more fully in our most recent annual report on Form 20-F filed on 27 September 2016 and in other filings with the United States Securities and Exchange Commission. The list of factors discussed therein is not exhaustive; when relying on forward-looking statements to make investment decisions, you should carefully consider both these factors and other uncertainties and events. Forward-looking statements apply only as of the date on which they are made, and we do not undertake any obligation to update or revise any of them, whether as a result of new information, future events or otherwise.
Please note: A billion is defined as one thousand million. All references to years refer to the financial year ended 30 June. Any reference to a calendar year is prefaced by the word "calendar".
Comprehensive additional information is available on our website: www.sasol.com