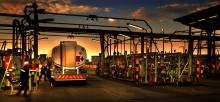 Limpopo, South Africa - Sasol will be hosting a training Product Transportation Offsite Emergency Response Exercise & Community Roadshows from the 5th to the 8th of June 2023 at various locations in Limpopo province together with multiple key stakeholders
This exercise is aimed at evaluating the effectiveness of the Sasol Customer Demand Fulfilment (CDF) Departments' Outbound Logistics Offsite Emergency Plan. The secondary objective of the exercise is to create awareness about Sasol's products and Emergency Response (ER) processes to the public. The various planned scenarios will depict possible real-life incidents and the emergency services reaction thereof.  These Emergency Response exercises serve to enhance our governance processes in terms of product stewardship throughout the product lifecycle. 
"This ER is a clear demonstration of how as Sasol, we continue to remain duty bound to our values of safety, being a caring citizen, stakeholder inclusivity and accountability, says Phinda Vilakazi, Senior Vice President: Commercial Energy Solutions. "The exercise enables Sasol to adhere to global occupational safety standards, while limiting an adverse impact on the environment".
Vilakazi further points out Sasol's commitment to deeply embed a world class safety culture at every touch point with its various stakeholders in the product delivery value-chain. "This exercise will be a collaborative effort which will include strategically selected partners such as Sasol OMEs, government, industry partners, service providers, business community, local communities as well as NGOs to ensure that all relevant parties are always well prepared and fully aware on how to respond should an emergency incident occur".
Emergency exercise participants will be briefed accordingly prior to the simulation and members of the public are requested not to be alarmed as this is a training exercise. Furthermore, they are requested to move away from the restricted simulation area, as they would be expected to in a real-life scenario. Members of the public are encouraged to join the emergency response roadshows to be held as follow:
| | | | |
| --- | --- | --- | --- |
|  5 June 2023 |  09:00 – 14:00 |  Emergency Response Roadshow |  Mokopane Community Hall, Mokopane |
|  6 June 2023 |  09:00 – 14:00 |  Emergency Response Roadshow |  Polokwane Community Hall, Polokwane |
The roadshows will culminate in the actual simulation exercise on the 8th of June along the N1 North, in Polokwane.
Below are the Do's and Don'ts for Emergency Response.
What to do:
Immediately move away from the affected area: If you are in the vicinity of a flammable substance vehicle involved in an emergency, quickly move to a safe distance away from the scene. Keep in mind that flammable substances can pose a risk of explosion or fire at any time
Follow instructions from authorities: Listen to and follow the instructions given by emergency personnel, police officers, or any other authorities present at the scene. They are trained to handle such situations and will guide you to safety
Report the incident: If you have the opportunity, call emergency services (such as 10111) to report the incident, providing accurate details about the location, the type of vehicle involved, and any visible hazards
Help others evacuate: If you see others who may need assistance evacuating the area, lend a helping hand if it is safe to do so. However, prioritize your own safety and don't put yourself at risk unnecessarily
Move upwind, if possible: If there is a strong wind blowing, try to move in the opposite direction to prevent exposure to potentially harmful fumes or smoke
Stay informed: Keep yourself updated with information from reliable sources, such as local news or official announcements, to know when it is safe to return to the area or if there are any additional precautions to be taken
What NOT to do:
Don't approach the vehicle or the incident scene: Stay away from the flammable substance vehicle and the immediate vicinity. Approaching the vehicle could put you at risk of exposure to toxic substances or being caught in a potential explosion or fire
Don't use open flames or ignition sources: In the presence of flammable substances, avoid using matches, lighters, or any other ignition sources, as they could ignite the fumes and escalate the situation
Don't create sparks: Avoid actions that may create sparks, such as using power tools or starting vehicles nearby. Sparks can ignite flammable substances and cause an explosion or fire
Don't panic or cause chaos: Stay calm and composed during the emergency. Panic can lead to confusion and impede the efforts of emergency responders. Follow their instructions and encourage others to do the same.
Don't linger in the area: Once you have safely moved away from the scene, avoid lingering nearby. Emergency responders need space to carry out their work effectively, and you should keep a safe distance until the situation is under control