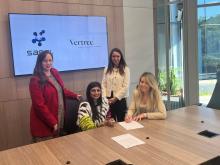 Johannesburg, South Africa – South African global chemicals and energy company, Sasol Limited, has signed a three-year agreement to work with international carbon solutions provider, Vertree Partners Limited, on access to high-quality carbon credits and climate investments.
In accordance with a memorandum of understanding (MoU) signed between the two parties, Vertree will help Sasol devise robust pathways for decarbonisation, manage associated risks and make high-quality, high-impact investments in carbon reductions and removals as part of the company's journey to net zero.
A wholly owned subsidiary of Hartree Partners, Vertree is focused on decarbonisation and environmental markets. Vertree's experienced team assists companies and institutions to reach their climate goals. Through established partnerships with project developers, investments into new market innovations and environmental market insights, Vertree will guide Sasol and provide access to existing and future supplies of high-quality carbon credits and other environmental investments.
Speaking at the signing of the MoU, Sasol's Vice President for Climate Change, Shamini Harrington, said: "High-quality carbon credits can uplift communities and contribute positively towards national imperatives of alleviating poverty, unemployment and inequality while simultaneously meeting decarbonisation objectives. We are excited to start this journey with Vertree to put in place the tools and frameworks to ensure investment in credible carbon projects that deliver on these imperatives."
Vertree's Muireann Mageras commented: "We are delighted to begin our partnership with Sasol. We are committed to supporting Sasol to accelerate its decarbonisation and ensure the delivery of credible environmental and social value through carbon-related projects and investments."
Sasol is transforming its business towards an absolute scope 1, 2 and 3 (Category 11) net zero ambition by 2050. This includes an interim 30% emissions reduction target on absolute scope 1 and 2 emissions by 2030, and a 20% reduction in absolute scope 3 (Category 11) emissions over the same period. Sasol believes that, if properly designed and delivered, investment in nature and technology-based solutions can play an important enabling role in addressing hard-to-abate emissions while realising other important environmental and social benefits. Carbon credits will only be used to supplement the company's existing emission reduction activities and are not intended to replace them.