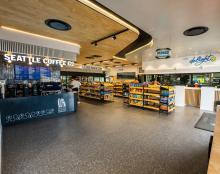 Johannesburg, South Africa – Energy giant Sasol is revealing its new strategic partners for its convenience centres at the Sasol Circle Centre in Centurion. Sasol partners with the country's loved brands Seattle Coffee Company and Krispy Kreme.
Seattle Coffee Company is a leader in artisanal coffee and prides itself on maintaining the craft element of coffee. They nurture and partner directly with a network of farmers worldwide in major coffee-growing regions. Krispy Kreme, on the other hand, offers delicious doughnuts that are hand-crafted to perfection, as well as several delicious and sweet treats.
"This is an exciting journey for Sasol since it launched its refreshed retail business forecourt strategy that focuses on providing differentiated customer offers across six key categories namely, core convenience retail, fresh food, fresh beverages and bakery, Quick Service Restaurant or drive-through partnerships, car care services and value-added services," says Nokwanda Mbanjwa, Vice President: Retail at Sasol Energy Business. "Last year, Sasol also launched its own rewards loyalty programme, which has since recorded a whopping one million member registrations."
Mbanjwa points out that as a customer-obsessed business, Sasol is constantly evolving Sasol Delight's offerings to meet customers' changing needs.
She adds: "Customer-centricity is not just something we talk about, but something we demonstrate, giving a delightful customer experience is our obsession."
Sasol aims to roll out the new partnerships across the country. Make your way to Sasol Circle Centre in Centurion for a glimpse of the delightful forecourt convenience store.