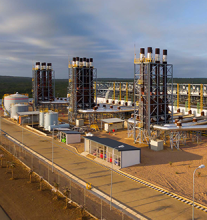 Johannesburg, South Africa – Sasol is pleased to announce that the divestment of the Company's full shareholding in Central Térmica de Ressano Garcia (CTRG), the 175MW gas-to-power plant located in Ressano Garcia, Mozambique, reached completion effective 29 April 2022.
In December 2020, Sasol announced that a Sale Securities Purchase Agreement had been signed with Azura Power Limited for the divestment of its equity interest in CTRG. Following the fulfilment of all conditions precedent, the transaction is now completed. 
This transaction is part of the Company's ongoing, strategy aligned, asset divestment programme announced in March 2020. Sasol remains fully committed to upstream gas operations in Mozambique, which continues to be integral to Sasol's strategy.