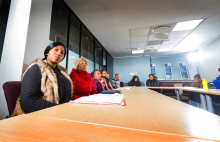 Johannesburg, South Africa – South Africa's technical-vocational teachers will converge for the 6th Annual Technical Teachers Conference (ATTC) this September to discuss policy matters as well as their readiness to teach the vocational skills for the future.
Organised by the Sasol Foundation in partnership with Kagiso Trust, this year's event will take place 14 – 15 September 2022 and will be hosted virtually to attract and reach a larger and broader audience. The virtual conference will be preceded by the Inaugural Interprovincial Teacher Skills Competition as the final preconference workshop in Bloemfontein on the 9-10 September 2022. ATTC is a way Trusts like Sasol Foundation and Kagiso support the essential work technical educators do in nurturing the next generation of skilled artisans, technicians and technologists.
"This conference reinforces Sasol's promise to be a catalyst for positive change in society, driving shared socio-economic value," said Noxolo Kahlana, Head of the Sasol Foundation.
"Taking place for the sixth year, we are immensely proud of the impact the ATTC has had in highlighting the significance of vocational education in South Africa and its role in enabling the country to implement much-needed sustainable solutions to power generation, water provision, construction, transport and development. There currently isn't a platform like ATTC that provides educators, researchers and policymakers with the podium to engage in vigorous debates about the state of vocational training and come up with feasible solutions."
Teachers at the conference will have the opportunity to participate in exciting interactive activities that include live demonstrations, debates, polls, and virtual awards. There will also be a virtual exhibition of 4IR technology products for teaching and vocational training. Attendees will also hear from leading speakers and thinkers in the fields of 4IR and vocational education, as well as gain exposure to training and upskilling opportunities.
"We appreciate the crucial role that teachers play in the development of the youth of our country," says Mankodi Moitse, Chief Executive Officer of Kagiso Trust. "It is vital for children's futures that they have access to quality education and mentorship, with ATTC providing impetus for meaningful conversation and action. Partnering with a leading company like Sasol allows us to leverage both our strengths to provide a unique opportunity for educators to harness and grow their skills and take the latest insights and solutions back to their classrooms where they can continue to develop the youth of South Africa."
The ATTC runs in parallel with Sasol Techno X 2022, South Africa's premier career guidance exhibition, which showcases the amazing possibilities of careers in science, technology, engineering, arts, mathematics and innovation (STEAMI) to South Africa's next generation of leaders and innovators.
Watch the sessions here https://www.youtube.com/playlist?list=PLgo09B8IQwvV5CBHZ_j-_JIG7JEf4iv0…;